Sex Sells!

An article by davefiedler

Comments Off

on Sex Sells!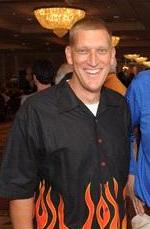 So I sold a book yesterday at the terrific event at the Book House on Manchester. It went to a postal carrier who stopped by to deliver the mail while the event was going on.
She said she bought it not because of the book itself, but rather, because I am "good looking." I did not consider this as an aspect of my marketing strategy, but if that's what it takes, I'm guess I'm okay with it.
In order to capitalize on this new "sex sells" approach, I am considering wearing a speedo to my next event.  Is this a good idea?  Time (and my sales count) will tell.
Upcoming Events
January 2018

| S | M | T | W | T | F | S |
| --- | --- | --- | --- | --- | --- | --- |
| 31 | 1 | 2 | 3 | 4 | 5 | 6 |
| 7 | 8 | 9 | 10 | 11 | 12 | 13 |
| 14 | 15 | 16 | 17 | 18 | 19 | 20 |
| 21 | 22 | 23 | 24 | 25 | 26 | 27 |
| 28 | 29 | 30 | 31 | 1 | 2 | 3 |